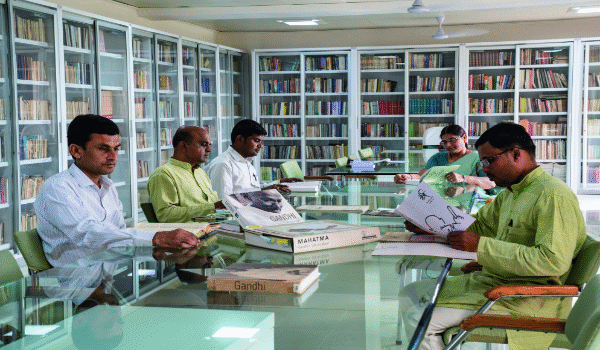 The library of the Foundation houses a rich, comprehensive and veritable collection of over 7,000 books on and by Gandhiji. The subject matters and contents of these books are such that they can throw light on all major and important aspects of Gandhiji' s life, works and times.
Moreover, the titles also include important scholarly and critical works authored by leading lights. Interpretive and contemplative works also form a sizeable part of this collection.
A comprehensive list of titles can be availed on request.
space and provides clean, comfortable and engaging environment and facilities for conduct of quality study and research. Trained and dedicated staff, headed by internationally experienced Chief Librarian is unobtrusively attendant to all queries and assistance.
A complete digital data-base of the library's collection can be instantly accessed through the central console.
Desk-top and lap-top computing facilities with high speed, uninterrupted broadband internet connectivity are also provided in the library for individual use.
Following books are available in the library: