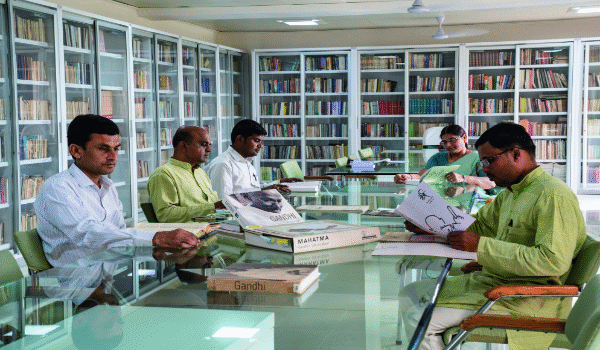 • The library of the Gandhi Research Foundation has a comprehensive and unique collection of over 11,000 books on and by Gandhiji with the aim of establishing a globally accessible, unparalleled research resource base. The subject matters and contents of these books provide insights into all important aspects of Gandhiji's life and work.
• The reading room has a comfortable and an engaging environment. It offers a congenial, clean and quiet environment as well as technical facilities for quality study and research.
• Complementing the printed volumes, the library also comprises a digital data-base collection that can be instantly accessed through the central console.
• The library is equipped with a high speed internet service that can be provided for individual use.
• Trained & dedicated associates, headed by an experienced chief librarian, are ready to respond to any queries and to assist the readers at all times.
» The library, as an excellent resource base, can be used by academic scholars doing research projects on Gandhiji.
• Opening hours: 9.00 AM to 18.00 PM
• Library membership fee: Rs. 200/- per month
» For more information contact Mr. Ashok Chaudhari, Ph: 0257-22600 11/22; Extn. 2204
The following books are available in the library: